Richard Gee Presents...Interactive author of 11 books & manuals, now read and discuss the strategies with the author and get mentored for your own ideas for 12 months by email or phone.
---
Audio CDs are a must for your travelling either for in the car or download to your IPOD and prepare your self to work your customers into decisions.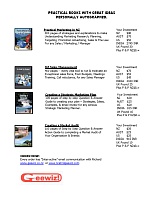 Download a PDF document of all books, manuals etc, written & produced by Richard Gee.

Download PD

F>>
a full list and descriptions of products, Books, Cd sets, and manuals...
---
---
---
---
---
---
---